Manufacturer: TestEquity
Model: 1007H
Reference No.: 281LC
Description: TestEquity Model 1007H Temperature/Humidity Chamber
Model 1007H Temperature/Humidity Chamber Specifications:
Temperature Range
-73°C to +175°C
Control Tolerance
±0.5°C (±0.2°C Typical)
(Short-term variations measured at the control sensor after stabilization)
Uniformity
±1°C
(Variations throughout the chamber after stabilization)
Humidity Range
Standard Range: 10% to 95%
(Limited by a 6°C dewpoint and maximum dry bulb of +85°C)
With optional GN2 Purge or Dry Air Purge: 5% to 95%
(Dry bulb range of +10°C to +85°C)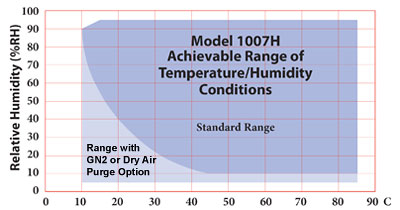 NOTE: Ability to reach RH extremes may be limited by the humidity sensor accuracy. Low Dew Point conditions can only be achieved when starting with a clean, dry chamber.
Control Tolerance
±3% RH
(Short-term variations measured at the control sensor after stabilization)
Display Resolution
0.1% RH
Humidity Sensor
Dynamic capacitive type (no wet wicks required)
Cool Down Transition Time* (uncontrolled humidity mode)
Start Temp
End Temp
+23°C
0°C
-40°C
-55°C
-65°C
-73°C
+23°C
—–
4 min
18 min
25 min
33 min
Ultimate
+50°C
5 min
11 min
27 min
36 min
45 min
Ultimate
+85°C
13 min
20 min
37 min
47 min
55 min
Ultimate
+150°C
32 min
39 min
58 min
65 min
76 min
Ultimate
Heat Up Transition Time* (uncontrolled humidity mode)
Start Temp
End Temp
+23°C
+50°C
+85°C
+125°C
+150°C
+175°C
+23°C
—–
1.5 min
7 min
14 min
20 min
25 min
0°C
1.5 min
3.5 min
13 min
20 min
23 min
31 min
-40°C
6 min
11 min
17 min
24 min
30 min
35 min
-55°C
8 min
13 min
19 min
26 min
32 min
37 min
-65°C
10 min
14 min
21 min
28 min
34 min
39 min
Rate Of Change
To calculate rate of change for a particular condition, take the difference between the Start Temp and End Temp and divide by the Transition Time.
Cool Down Example: From +50°C to -40°C = 90°C / 27 min = 3.33°C/min.
Heat Up Example: From -40°C to +50°C = 90°C / 11 min = 8.18°C/min.
*Note: Transition times are measured after a 2 hour soak at the respective start temperature with an empty chamber, as indicated on the temperature controller, 23°C ambient. Measured with setpoint beyond the start and end temperatures. Does not include the effect of proportional band when approaching setpoint. Performance is reduced by 17% with 50 Hz input power.
Live Load Capacity (uncontrolled humidity mode)
+23°C
0°C
-40°C
-55°C
-65°C
1,000 Watts
800 Watts
500 Watts
400 Watts
300 Watts
Refrigeration and Heating System
High Stage Refrigerant
R-404A (Dupont HP-62)
Low Stage Refrigerant
R-508B (Dupont SUVA-95)
Compressors
1.5 HP x 1.5 HP Tecumseh hermetic compressors in a cascade configuration.
Condenser
Air Cooled
Heat of Rejection
14,800 BTUH (maximum rated chamber load at maximum cooling rate from high temperature soak)
Air Heater Power
2,000 Watts
Humidifier Heater Power
1,500 Watts (rating at 240V)
Air Flow
450 cfm
Instrumentation
Temperature Controller
Watlow F4T Touch Screen Controller with RS-232, Ethernet interface, 4.3″ color graphic touch screen. OR…
Watlow F4 Controller with RS-232 interface, LED readout of temperature, LCD display of other parameters.
Limit Controller
Independent high and low temperature limits. Triggers an audible alarm and shuts down the chamber. Relay contacts provide a safety power interlock for test sample.
Chart Recorder
(Optional) Honeywell DR4300 Series. One pen, 10″ circular chart. Mounts in lower front door.
Input Power Requirements
Phase
Current Draw
Minimum Service
230 V ±10%, 60 Hz
1 PH
25 A
30 A
3 PH
19 A
25 A
208 V -5/+10%, 60 Hz
1 PH
28 A
35 A
3 PH
21 A
30 A
Input may be configured for single or three phase in the field by changing jumpers. Three phase load is semi-balanced. Call for other voltages or 50 Hz operation. Performance is reduced by 17% at 50 Hz.
Customer power source must be hard-wired to the chamber by a qualified electrician. Power cord and plug is not included.
Humidity Water Requirements
Supply and Drain
Must be provided with a water line and floor drain. Negligible consumption.
Water Recirculation System (optional)
Provides a reliable supply of filtered water for the humidity system. Perfect for installations where a water line and drain are not available.
Physical Characteristics and Safety
Inside Dimensions
24″ W x 21″ H x 24″ D (7 cubic feet)
609 mm W x 533 mm H x 609 mm D (198 liters)
Outside Dimensions
33″ W x 68.75″ H x 54″ D (nominal)
838 mm W x 1746 mm H x 1372 mm D
Door latch adds 3″ to width on right side (may be removed to permit move-in through a 36″ doorway). Circulator motor and housing adds 6″ to height.
Minimum Installed Clearance
18″ from the left and right side
24″ from the rear
Window Viewing Area
13.375″ W x 9″ H
Access Ports
4″ Port on left and right side (two total)
Supplied with foam plugs
Weight
Chamber Weight: 890 pounds
Shipping Weight: 1,058 pounds
Sound Level
62 dBA in cooling mode (A-weighted, measured 36″ from the front or side surface, 63″ from the floor, in a free-standing environment)
NOTE: Performance is typical and based on operation at 23°C (73°F) ambient and nominal input voltage. Designed for use in a normal conditioned laboratory. Operation at higher ambient temperatures may result in decreased cooling performance. Additional ports and shelves will also affect performance. Operation above 30°C (85°F) or below 16°C (60°F) ambient is not recommended.
Contact SMT Sales Group for additional details.
Condition:
Complete & Operational
Availability: Immediate for purchase / 2-4 weeks for shipping
Location & Shipping:

USA / FOB Origin
Actual Machine Photos:
Contact
SMT Sales Group using the form below or email
sales@smtsalesgroup.com
for additional information or inquiries.
FAST response, within an hour or less.